A lightweight and biocompatible wearable device that monitors heart and physiological conditions. It is designed to seamlessly and exclusively work with the CARDINOVA app.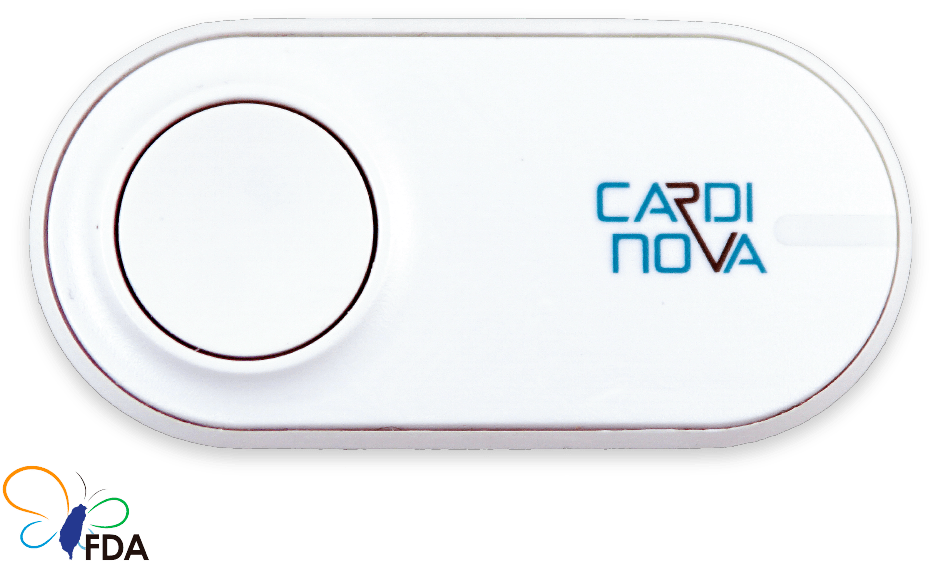 CARDINOVA ECG Recorder complies with these certifications IEC60601-1, IEC60601-1-2, IEC60601-1-11, IEC60601-2-47, ISO10993.
CARDINOVA is cleared as TFDA CLASS-II Medical Device by the Ministry of Health and Welfare, Taiwan.
CARDINOVA ECG Recorder is lightweight with just 15gr. Very comfortable to wear all day.
CARDINOVA ECG Recorder is completely waterproof and dustproof thanks to the IP47 certification.
CARDINOVA ECG Recorder can be used for up to 40 hours with a single full charge.
The sensor, the strap, and the wearable patch are biocompatible (ISO10993 certification).
| CARDINOVA ECG | SPECIFICATIONS |
| --- | --- |
| Dimensions | 58.5 x 28.5 x 9.9 mm |
| Net Weight | 15g (0.53 oz) |
| Heart Rate | 30~240 bpm (±1 bpm) |
| R-R Interval | 250~2000 (±10%) ms |
| Connectivity | Wireless 2.4GHz |
Download the multi-language manual for the complete list of specifications.
Do you want to know more?